Visa requirements *
Any foreigner seeking to enter the United Republic of Tanzania is subject to the following entry requirements:
A passport or Travel Document which is valid for not less than six months;
A Residence Permit or a Pass (where applicable);
A valid Visa (where applicable) from any Tanzania Mission abroad or on arrival at any designated entry points.
Entry authorization: upon complying with the entry requirements, a visitor is issued with a Visitor's Pass with validity not exceeding three months (and not exceeding six months for citizens of EAC Member States).
There are some countries which their nationals require special clearance from the Commissioner General of Immigration or the Commissioner of Immigration (Zanzibar) prior to issuance of the Visa. These countries fall under the Referral Visa Category. Applicants whose nationals fall under this category are not advised to book flight tickets or make payments for any reservations in Tanzania before they get approval for their Visa. Applicants of Referral Visa are advised to apply at least two months before their date of travel.
LIST #1: Visa-exempt foreign nationals: Antigua & Barbuda, Anguilla, Ashmore & Certie Island, Bahamas, Barbados, Bermuda, Belize, Brunei, British Virgin Island, British Indian Ocean Territory, Botswana, Cyprus, Cayman Island, Channel Island, Cocoas Island, Cook Island, Christmas Island, Dominica, Falkland Island, Gambia, Ghana, Gibraltar, Grenada, Guernsey, Guyana, Heard Island, Hong Kong, Isle of man, Jamaica, Jersey, Kenya, Kiribati, Lesotho, Malawi, Montserrat, Malaysia, Madagascar, Malta, Mauritius, Macao, Mozambique, Nauru, Naue Island, Norfolk Island, Namibia, Papua new Guinea, Rwanda, Romania, Ross Dependency, Samoa, Seychelles, Singapore, Swaziland, Solomon Island, St. Kitts&Navis, St. Lucia, St. Vincent, St. Helena, South African Republic, Trinidad & Tobago, Turks & Caicos, Tokelau, Tonga, Tuvalu, Vanuatu, Uganda, Zambia, Zimbabwe.
LIST #2 : countries which their nationals require referral visa: Afghanistan, Azerbaijan, Bangladesh, Chad, Djibouti, Ethiopia, Eritrea, Equatorial Guinea, Iran, Kazakhstan Republic, Kyrgyz Republic, Lebanon, Mali, Mauritania, Niger, Nigeria, Pakistan, Palestine, Senegal, Somalia, Sri Lanka, Somaliland, Sierra Leone, Syria, Tajikistan, Turkmenistan, Uzbekistan, Yemen and stateless persons or persons with refugee status.
LIST #3: countries which their nationals can obtain an evisa or a visa on arrival: citizens of all other nationalities can obtain their visa online (e-Visa) or on arrival.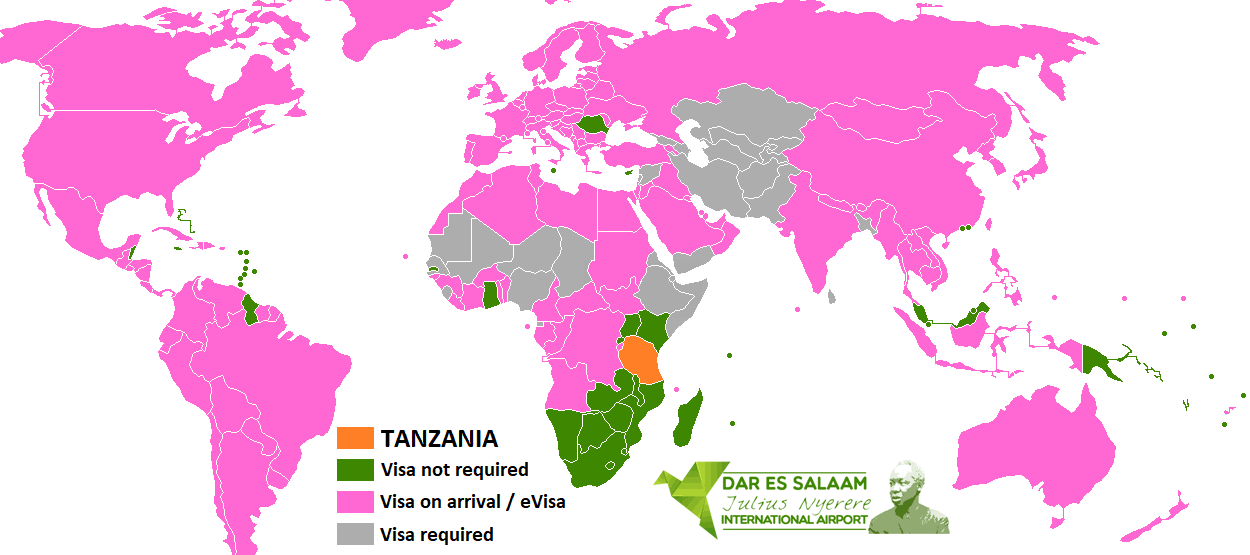 Note: a passenger who does not have Tanzanian identity papers (passport or identity card) is considered as a foreign passenger even if he / she has a multi-citizenship and must therefore be in possession of a visa .